Personal Coaching with Chris Pearson
To get in shape, you'll need to be consistent. To be consistent, you'll need help.
"I know what to do… but I have a hard time staying consistent."
When life gets crazy and responsibilities at home and work pile one on top of the other, it's easy to let our health and fitness slip. The years go by and we don't even realize how much our health had declined.
But for most of us, there comes a time when we realize things must change. A time when gaining control over our body takes on new urgency.
For some, it's a scary health diagnosis. For others it's watching a loved one struggle with their own health problems. And for others still, it's when they finally realize they've spent so many years taking care of others, that they neglected to take care of themselves.
When it's time to turn things around and start a new health and fitness program, however, it can be difficult to know what to do next. And staying motivated is hard — especially if you try to do it all on your own.
That's where I come in.
My goal is to help you get in the best shape of your life and stay that way. Starting now.
Meet Chris Pearson
I'm Chris.
I created Reform with one goal: to help people get the results they want safely and effectively.
Helping you feel confident in your own skin and love how you look and feel will never get old to me.
We Help Everyday People Burn Fat, Build Muscle and Feel Confident In Their Own Skin.
Additional Certifications
EXOS XPS, Performance Specialist
EXOS XFS, Fitness Specialist
NASM CPT
FMS Level 1
CrossFit Level 1
NAPA CSAC, Certified Speed and Agility Coach
TRX STC
Education
Northeastern State University B.S Health & Human Performance
Northeastern State University Masters in Business Administration
Areas of expertise
Strength Training
Nutrition Coaching
Weight Loss
New to Fitness
Weightlifting
Mobility
Wellness
Sports Performance
How to get into the best shape of your life — and stay that way.
Expert nutrition coaching, strength training and personal accountability from Coach Chris Pearson and Precision Nutrition.
Transform your body forever
You tell me what you want to do. I'll help you do it. First, I'll learn about your lifestyle, needs, and specific goals. Then, over the course of the program, I'll give you everything you need to look, feel, and perform better than you thought possible. Guaranteed.
Proven strategies to help you get (and keep) the body you want
You've probably tried multiple diet and workout programs in the past. And you've concluded that they simply don't work in the long run.
Instead of the all-or-nothing dieting approach, I use a sustainable, practice-based approach to build healthy habits into your life, one day at a time.
The result? You'll lose the weight (and inches) you haven't been able to shed for years. You'll have more energy than ever before. And you'll Build physical strength and find new confidence in your body.
Stay accountable and consistent with personal help from me
I live and breathe this stuff everyday, and have dedicated my professional life helping people like you become fitter, stronger, and healthier than ever.
Whatever obstacles arise, I'll help you overcome them by modifying your program or offering new solutions. In the end, know that I'm here to support you every step of the way, no matter what life throws at you.
What kind of results do people get? A few examples.
People who have used this system have been able to achieve results like this.
"Chris Pearson with Reform has challenged about every theory that I believed to be true about fitness, exercise, losing weight and shaping your body. What is the biggest things I notice since I have begun training with Chris?  I'm lighter, stronger, faster and feel more fit when running and lifting. I feel good when I'm tucking in my shirt or when I'm not wearing a shirt. You can't put a price on confidence."
– Tony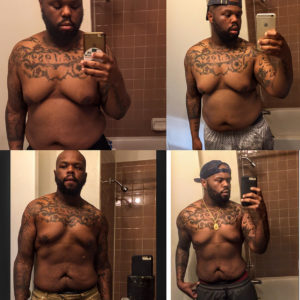 "Chris is consistent, motivating, and more than a trainer he's someone you can rely on if you have dreams of a healthier life. It's simple, he knows what he is doing once I trusted the process the results (expletive) came."
– Jeremy, 100+lbs lost
"I'm not where I want to be yet, but I wake up in the morning and I'm happy now. I don't roll out of bed and stare at my enormous gut, I get out of bed ready to start my day, and knowing that if it's a Monday, Wednesday, or Friday I'll probably be cussing Chris by the end. I also know it's worth it. So take the money you were going to spend on fast food this month, pack a sandwich, and let Reform Strength and Conditioning take a crack at you. Your body will thank you, your spouse will probably thank you, and most importantly, you'll thank yourself."
– Travis, 100lbs lost
In April my daughter and I started working with Chris. Right off the bat I could tell we were in for killer workouts. I started seeing results really quick after training with Chris. I have lost 14 lbs and gained so much muscle and strength.
I love Reform!
I love the training!
But Most of all, I love the results!!
– Leslie, 15lbs lost
"The atmosphere, and Chris himself just wants to make you keep going back. Plus, I started seeing results so fast after I started going so I began craving more of that. Not only am I physically better, but mentally and emotionally I just feel better. I gripe through workouts but it's really like a therapy for me!"
– Makenzie, 30lbs lost
Is personal coaching right for you?
Personal coaching with Coach Chris Pearson, Reform Xclusive and Precision Nutrition is for you if:
Give me one year. You'll get in the best shape of your life — or your money back.
Stick with me for a full year and follow my recommendations. If you don't get what you're looking for at the end of the year, I'll give you a full refund. You get to decide if the program was worth it. Why do I do this? Because I stand by my work. I know you'll walk out healthier and happier than ever before. All you have to do is take the first step.
Wait, what if I want a fat loss kickstart before starting the Precision Nutrition Method?
We have an option for that, too. Enter the Reform 21 Day Rapid Fat Loss Protocol with 4(!) bonus "Your Success Blueprints":
 Reform 21 Day Rapid Fat Loss Protocol 2.0
​​​​​​​​​The protocol includes the structure of the program. In it you will find everything you need to be successful during the 21 Days.
 Your Success Blueprint: Nutrition
What you need to know about what you eat. From calorie counting to macronutrients and some tips and tricks to make you feel like a pro. It's time to transform your eating habits.
 Your Success Blueprint: Mindset
We've established that change is hard. Without changing your mindset, though? It's dang near impossible. We'll dive into what thoughts or actions may be holding you back and devise a plan to get them out of your life, for good. It's time to transform your mind.
 Your Success Blueprint: Fitness
Working out is more than just showing up at the gym. If it were that easy everyone would be fit! But, it isn't as complicated as some fitness coaches like to make it seem. Consistent hard work with a well-structured workout is all it takes to put you well on your way to transforming your body. It's time to transform the way you look at fitness.
 Your Success Blueprint: Extra Workouts
If you're looking for a little extra work beyond the 3 Day Strength Training program in the protocol. These workouts will challenge you no matter what you're wanting to work that day. It's time to get a little extra work in to take you to the next level.
Pricing
Hiring a personal trainer can easily cost as much as $500 per month. And that's often just for the exercise program!
But if you join me right now, you'll have the opportunity to pay only $29 per month for 12 months.
This includes:
 Personal nutrition, movement, strength training and lifestyle coaching with me for a full year.
 Delivered on a premium, easy-to-use platform you can take with you anywhere.
I only take a small number of new clients every year, and spots are first-come, first-served.
Want to get into the best shape of your life? Let me help.
Lose weight, build strength, and get the accountability you need.
Maybe it's been a while since you've been in shape, or felt energized throughout your entire day, or felt capable and confident enough to do what you truly want.
If you're ready to have the body you deserve and get in control of your health and fitness once and for all, I'm ready to help. You've tried doing it alone. Now try with someone who's ready to bring a commitment that's as serious as your own.
I've dedicated my professional life to helping people transform their bodies through nutrition and fitness. And the team at Precision Nutrition has done the same.
This is your limited opportunity to work with the best coaching team in the industry — to look, feel, and perform better than you thought possible.
I hope to have the opportunity to help you transform your body and life forever.
But the next step is up to you.